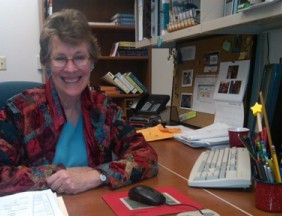 Who I am....
A (100%) retired professor of web design, online courses, computer software applications, programming, systems analysis and design, Foundations and Capstone seminars and yet unknown software.
Background
Temple University, BA; Columbia University, MA; over thirty years experience exploring emerging computer technologies and not bored yet. I strongly believe in life-long learning and hope to share my learning strategies with you as we work through this semester's Capstone course.
When not in front of a computer...
I am also a wife, mother, skier/ hiker, gardener, birder, photographer, and traveler. I have been fortunate to live in a few foreign countries in Europe and the Middle East, and within the past three years spent some extended time in the Central American country of Honduras. These past two years I have stayed closer to home, with a few trips to Colorado, Honduras, and a delightful vacation in Puerto Rico.
Two years retired, I continue proctoring exams for a medical school, volunteering a a therapeutic horseback riding program, and having a second cup of coffee rather than commuting.
If interested in Honduras, take a peek at this set of travel photos taken during Semana Santa in Comayagua, Honduras. They show the careful design, execution and quick demise of sawdust carpets, called alfumbras.
---
Accept differences; Be kind; Count your blessings; Dream; Express thanks; Forgive; Give freely; Harm no one; Imagine more; Jettison anger; Keep confidences; Love truly; Master something; Nurture hope; Open your mind; Pack lightly; Quell rumors; Reciprocate; Seek wisdom; Touch hearts; Understand; Value truth; Win graciously; Xeriscape; Yearn for peace; Zealously support a worthy cause.